Listen on Apple Podcasts · Spotify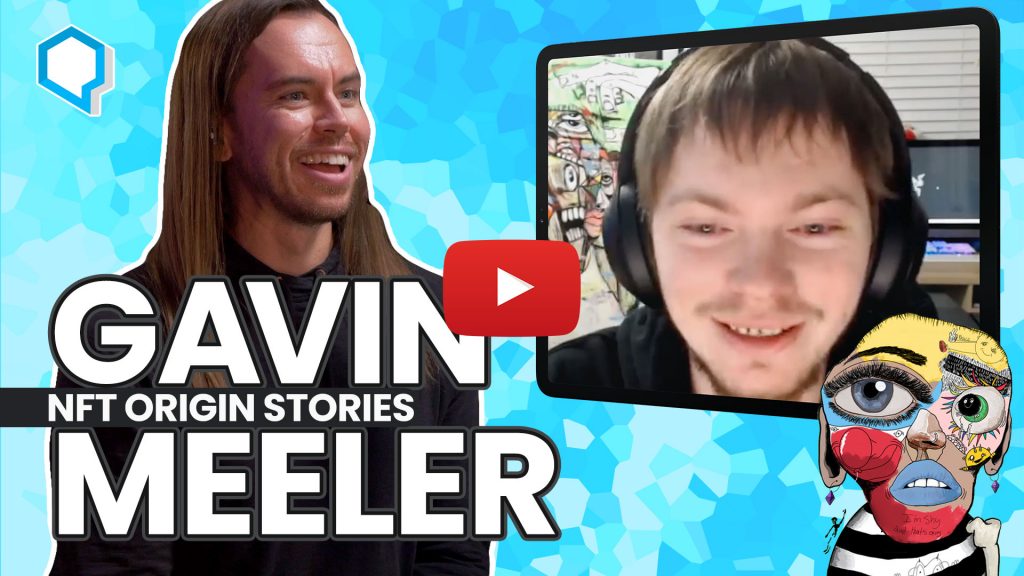 After talking to Gavin I quickly learned that his success as an artist wasn't by accident. It was from his pure tenacity and drive to live life on his terms by learning, creating, experimenting, and relentlessly doing what it takes to win.
"Everyone always said, 'Well, you should do something more practical.' And I just didn't care because it's very simple: you just keep doing it until you're there."
—Gavin Meeler
Growing up, Gavin read every book he could find about celebrities and being financially successful out of fear that he would get stuck in a bad financial place. But it was when he discovered Gary Vaynerchuk that he finally found his person.
Gary inspired him to try the flip game, buying items at garage sales and thrift shops and selling them elsewhere for a profit. But one day there was a video with Gary V and Fewocious describing NFTs that changed Gavin's trajectory forever.
Gavin's is an amazing story that has an unexpected, full circle return of Gary V at multiple, impactful moments in his story, culminating with an unexpected, but all too fitting purchase of one of Gavin's NFTs.
"When anything happens two times it means you're on to something or you got lucky twice. It's possible that you got lucky twice, but you're probably on to something."
—Gavin Meeler
This is a wonderful conversation and I'm so honored to be the one to help tell Gavin's story.
Be sure to follow him on Twitter at @gavinmeeler and find his NFT collections below:
---
How to Claim your POAP
This episode's POAP is extremely limited and will be available for the 24 hours after this episode was published.
It's simple to claim your POAP, but for my full tutorial and explanation about what they are and how to use them, click here: RYPS.co/poap
If it's still within the 24 hour window and you find that the secret word has run out, simply follow and DM me on Twitter (@jeffSARRIS) and I'll have a small allotment of additional download links set aside.
And be sure to tell Gavin thank you for sharing this amazing piece of art with us!
---
If you're interested in sponsoring an episode of Starting Now, send me a DM on Twitter or contact me here!
---
Subscribe to Starting Now on Apple Podcasts, Spotify, YouTube, or wherever you listen to podcasts.
And, finally, if you're enjoying our podcasts and care to learn more about us, at SPYR we build minimalist businesses and we help you start your own here at BYLT.
Some of the links above may be affiliate links which means that I earn a small commission from qualifying purchases at no additional cost to you.
---
Love this episode? There's more!
---
Transcript
Coming soon