Listen on Apple Podcasts · Spotify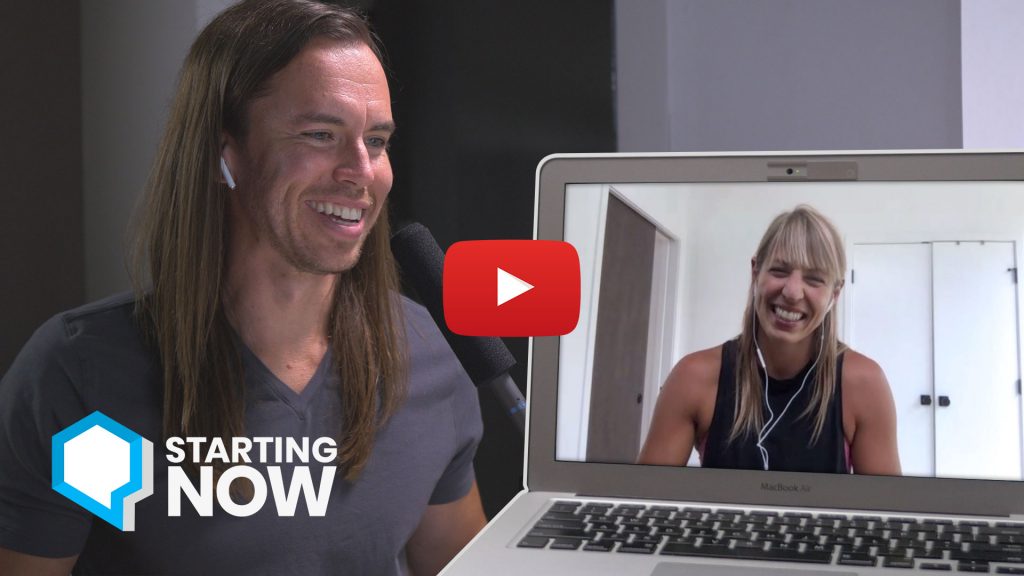 Today's guest is the founder of 12 Minute Athlete, Krista Stryker. Through her 12 Minute Athlete App, her book, and the immense library of content that she's created online, Krista helps people reach their fitness goals through high intensity interval training and body weight exercise.
In this episode, Krista talks about her shift from a fixed mindset to a growth mindset and how a simple bet that she couldn't do a push-up was a catalyst that led her to become the face of her own fitness brand and business.
Subscribe to Starting Now on Apple Podcasts, Spotify, YouTube, or wherever you listen to podcasts.
---
Love this episode? There's more!
---
Transcript
Jeff Sarris
Today's guest is the Founder of 12 Minute Athlete, Krista Stryker. Through her 12 Minute Athlete App, her book, and the immense library of content that she's created online, Krista helps people reach their fitness goals through high intensity interval training (HIIT) and bodyweight exercise.
In this episode, Krista talks about her shift from a fixed mindset to a growth mindset, and how a simple bet that she couldn't do a push-up, eventually led her to become the face of her own fitness brand and business. So, without further ado, let's get started.
Hey there, Krista! Thank you so much for doing this.
Krista Stryker
Hey! Thanks for having me.
Jeff Sarris
So you are an entrepreneur. You're a fitness entrepreneur where you have an app and you do a bunch of different things. I want to dive into that. But first I want to rewind. Who was Krista growing up? What did you envision? Were you going to be an entrepreneur? Were you going to be a person in the fitness space? Like, what were you thinking?
Krista Stryker
No, both the entrepreneur and fitness aspects are the last things I would have ever guessed I would be. I didn't get into fitness until after college. I basically couldn't do anything: couldn't do a push up, definitely couldn't do a pull-up, or handstands, or anything like that. And I never saw myself as really getting out of that. I was pretty weak, I failed all those presidential fitness tests that we all had to take growing up. And I played some team sports like basketball and soccer, but never really got into them. Really, I just thought I was destined to be a non-athletic, super clumsy, weak person. That didn't change until after college.
And, as far as the entrepreneur aspect, my parents owned a dental office. So I kind of saw their runnings of a small business, but it was never in my head as something that was possible.
Like in high school, you would take these career tests, and they give you these very limited ideas of what you could do with your career. I knew that none of them fit but I just didn't know that there was something else. That I could really create my own career. And that took a while to figure out.
Jeff Sarris
Oh, yeah, I think for most of us as entrepreneurs, unless you had that direct influence. I mean, you were closer to it having the dental office in the family, but that is it. I had no idea either. It took me forever to like realize that this is the life I'm more geared for.
So you weren't really into fitness all that much. What was the turning point that got you into that first? I assume the fitness came before the entrepreneurship in the fitness space?
Krista Stryker
It sure did. Actually, I learned most of my life lessons through fitness. I can attribute most of the things I learned. I don't know if you know much about fixed or growth mindsets. They're psychology terms where having a fixed mindset basically means that you think you were born with certain traits and that, no matter what you do, you're not really going to get that much better. A growth mindset, on the other hand, you could probably guess means that you think that you can get better and improve at something.
So I had a total fixed mindset and why that's so bad is that it really means that you are not even trying to get better. So, because I never could do a push-up, I never tried to do a push-up, which looking back is crazy. Now everything I know is like, come on Krista. But, you know, it's a simple mindset shift that really makes a big difference. And so what really changed for me…
I was very lost growing up. I switched colleges, like every six months and had, I don't know, 10 majors? Just really all over the place, and just super lost in my life.
And I have an older brother who teases me and makes fun of me. And one day, he challenged me to do a push-up and I'm also very stubborn. So I didn't want to give in and like, admit that I couldn't do a push up. So my older brother and I did three of like the worst push ups that anyone's ever seen. They're probably awful, but it was kind of I don't know, it just was a switch in me that I was at such a low point in my life that I was like, you know what I'm going to try at something because nothing is working.
You know, like, I thought I would just magically have some talent one day like, I would wake up in Hogwarts and all of a sudden my wizard-y skills would show up. And they didn't. Those push ups were like the catalyst that made me try in fitness and then really in the rest of my life.
Jeff Sarris
So then three push ups the very beginning. I liked that. And I smooth transition into being who you are today, right? Just a very tiny, tiny baby step and now you're here. So then what did you do right after that? What were your first steps?
Krista Stryker
My first steps were to try to kind of establish a workout habit because I had always been like all over the place total yo-yo fitness person. And so I started with some, okay, I'm going to start running. And like I hate running, running is my least favorite thing. It always has been least favorite thing. So I would have these, you know, three mile runs like three days a week, and I would do anything possible to get out of them. And it took a really long time of experimenting with different styles of fitness to realize that you actually should not hate your workout.
So if you're hating your workout, you're probably doing something wrong. There are so many other types of exercise than like running and yeah, it took me– it took me years of experimenting. I found I ended up at one point because I had no idea what else to do with my life getting my personal training certification when I had moved to Europe and from there, yeah, I just– I just started experimenting.
Trying a lot of different things I ended up really falling in love with like, calisthenics, bodyweight training, high intensity interval training, kind of minimal equipment workouts, I just have always loved that I love working out outside.
I love like outdoor work and workout parks like fitness parks are super fun to me, and just kind of finding, figuring out different ways to get in movements kind of wherever you're at if you're stuck in your house. Like I said at a park, I'm not so into gyms even when I go to a gym I'm like in the outdoor area, using like maybe the pole bar island and the medicine ball, but it took me like years to figure that out.
Jeff Sarris
So, then, first outdoor fitness parks, I've never found a great one. Like I'm not looking, it's not something I'm searching for, but I've seen like Al Kavadlo and I think you might have done stuff with him at one time in New York City and where I mean, this is a complete sort of tangent, but where are some of your favorite fitness parks? So actually, how do you define that just for anyone who doesn't know what that entails?
Krista Stryker
It's like an adult workout playground. It's like literally a playground but for adults with pull up bars and you know, maybe a bar to do a human flag on or dips or things like that, a grass area so you can do push ups and sit ups. They're actually all over the world. And so there's a really terrible website. It's just like, I think they haven't updated it on the back end for like 20 years, but it's called calisthenics-parks.com, with a hyphen in between calisthenics and parks, and people will list all the calisthenics workout parks all over the world.
So I will go and travel and I'll be in like Italy and be like, okay, where's the workout Park and I go find it and it's so much fun. Um, that being said, my favorite workout park in the whole world is where I live in LA in Santa Monica, California. It's amazing, it's on the beach. It's beautiful and huge. I've pretty much moved here to be able to work out there.
Jeff Sarris
Nice. Yeah, I love it. I said I don't know where any are. I've been to that one. But yeah, so back to the sort of entrepreneurial world. So, at this point, you got your certification, your personal trainer certification, what were you doing? Like what were you doing just before you started 12 Minute Athlete?
Krista Stryker
So I tried to do the gym trainer thing for a while and that world is brutal, especially if you're working at a big box gym like I was in New York City. And I just– I just couldn't do it. I also realized very quickly that I was really bad at having a boss really bad at like working at a company, having someone tell me what to do. I just didn't do well with it.
So again, a very meandering journey of trying to figure out okay, how can I have the lifestyle that I want and figure out my own kind of job? And I really did start with that kind of lifestyle business thinking and like, when I started this was 2012. Crazy. Blogging was like the biggest thing back then and I also had just read the Four Hour Workweek by Tim Ferriss, so…
Jeff Sarris
Yeah, he's changed a lot of lives with that book, because that was me, too. That was the thing that opened my mind like it was right when it came out.
Krista Stryker
That's so crazy. So yeah, I read that and I read Chris Guillebeau's The $100 Startup, also a very awesome book, but it was talking kind of about how to start a blog. And that was like, I've always been a writer. I studied journalism in school, I actually was like, a radio journalist for a little bit. And so I wanted to kind of take my business online and figure out how to do that. So that's kind of where I tried out probably like five blogs before 12 Minute Athlete.
I had no real focus, you know, you got to do that. You got to test out things, see if they work and then that's the one that I– that stuck that I like had a good enough idea to actually stick with and I made a content plan thanks to Chris Guillebeau's book. Had like three months of content before I even told anyone it existed, already knew at that time that I wanted to create an app. So yeah, that's really how it got started.
Jeff Sarris
Yeah, I mean, diving into the app to this is early. So was it three months in that you started building the app?
Krista Stryker
No, it was probably the year after. So I had no idea what I was doing. I didn't know how to make an app.
Jeff Sarris
Oh, yeah, absolutely. I mean, it is such a big leap, too, because you're building- I know you don't like fitness personality- but you're building yourself as a fitness personality. And then how are you going to tie in the business to it is is always the big question. So it was three months before you really started to promote it at all. How? What did you do sort of day one from that point? How were you promoting it? How were you starting to build your community?
Krista Stryker
So again, I had no idea what I was doing. I had no like long-term plan at that point. It was like I sent out that first email to friends and family like Hey guys, like, this is what I'm doing now. I'd seriously it took my parents, at least a year if not more before they stopped being like, when are you going to get a real job? And I was like, No, this, this is it. I'm gonna make this work.
So I sent out that friends and family email, which is always kind of terrifying, and then just tried, you know, all the kind of guest blogging tactics online. You know, things have changed a lot since that time if there used to be RSS feeds used to be very different. When I was first starting, I really liked Copyblogger as a resource. That was super helpful. I actually went to like a Copyblogger conference as well.
Jeff Sarris
Yeah, that's how we met.
Krista Stryker
Yup! And a couple– so I actually went to a few different conferences and that was really interesting early on as a beginner in the space. Yeah, I feel like I learned a lot from that. It gave me some confidence, you know, when I met people like you and you're encouraging, and yeah, I just just kept going from there. Just I guess the main thing for me has always been consistency. So I from the beginning have have written very, very consistently. I, at first, was writing two new blogs a week and like, had three new workouts a week, which looking back is a lot.
Jeff Sarris
Oh, yeah.
Krista Stryker
I have toned it down since then. Although with social media now I don't know. So yeah, consistency and just sticking with the tactics that other people said works. Like I said, Guest blogging and just trying to get my name out there.
Jeff Sarris
Yeah, for sure. So then, when you started working on the app, had you reached a certain amount of email subscribers traffic? Was there like a tipping point where you knew okay, now it's time to invest?
Krista Stryker
That is a great question. Um, I don't– I'm first of all, I'm really bad with I've never been great at like, watching the numbers. I think I early on just decided not to do that too much. Because it was, it felt too personal. Like, I didn't want to look at a post that I that I really felt that I really wanted to write and then see that it didn't get, you know, as many views as I thought it should, like, I just I didn't want to rule my business by the numbers in that way, which you know, has good and bad things. Like sometimes I think it's good to do
But I also don't think, you know, if you see a blog or website that's all about the SEO, you can tell like, there's no heart in it anymore. So I really didn't want to do that. But I did see, like I, we've talked about, but blogging was really big. And everyone was starting a blog at that time. I knew I needed to do something to differentiate myself. And I just, the app world was also pretty new at the time, it was like 2013. I just, I really had this vision for an app that I wanted to create. So I like saved up some money did not get funding and invested in that initial app. And that– that was like that was definitely a tipping point for my business.
So it was like, all of a sudden took people took me and 12 Minute Athlete seriously, which was really cool.
Jeff Sarris
And was selling the app for the first time, was that the first dollar you made from the company from this version of your entrepreneurial journey?
Krista Stryker
Yes.
Jeff Sarris
Nice. And so you just dove in headfirst into the app world. How did you find the people to work with? How did you negotiate? Sort of what were your your steps from concept to reality?
Krista Stryker
Yeah, that's the hard part. It's finding developers is really a tough process. Even now, I struggle. I lucked out.
When I was first beginning, I had a mastermind group with a couple of people, one of which, who had worked with the developer on an app before. And so he kind of gave me advice that, you know, if you go and kind of draw out the app, so it's like the ScreenFlow of the app, then it'll be way easier for the developer and so I did like kind of all the design and like, you know, this screen goes into this screen and all that kind of stuff that thinking that you have to do. And then he connected me to this developer who lives in Barcelona and it was– I really lucked out. It was a really great first experience.
Unfortunately, that same developer eventually took a full time job. And so since it's been harder, like people think about the difficulty of creating apps, but then actually, the upkeep has been much more challenging. And you know, the app world has changed so much when I was first starting it was like you either had a paid app, or you had an app that had ads, and there weren't in-app purchases at all. So I had it– when that changed, like I had to change the whole model, which was definitely challenging.
Jeff Sarris
Mm hmm. Now I know it's a while ago, but approximately how much that cost for the first iteration of the app?
Krista Stryker
The first iteration cost, like, I think $6500 which now is a steal.
Jeff Sarris
Oh, yeah. It's like someone just starting out. It's a huge investment. I mean, you're going in, you're dipping into the bank account and in buying this thing, but yet today, I mean, apps just more and more expensive as you go.
Krista Stryker
Yeah. And they're just so much more complicated than they used to be too. My app was so simple. It was beautiful and simple starting out and it's definitely been an interesting challenge trying to grow it and add features.
Jeff Sarris
Mm hmm. So at the very beginning, what was your minimum viable product that you had to deliver?
Krista Stryker
So the product was very simple. We had an it's still like very much like this, but there were, like 200 workouts built into the app and I think seven different equipment options. So you know, bodyweight kettlebell, pull-up bar, dip bar, a few others, and you just would choose a workout based on what you had available. And yeah, there was an interval timer built in. So if you wanted to do your own workout and it like I said, it was very simple, you could watch videos, if you wanted. It didn't take you through, like, I'm not in there being like, do this rep and this rep!
You know, I, my audience tends to be a little more independent, so they– they look at the workout, and then it takes them through with these like, little exercise icons. And yeah, it was just very cool. Very simple. And it's still very much like that. But there's, you know, more programs more– more everything now versus the first iteration.
Jeff Sarris
Mm hmm. Because this is your full-time gig and it has been for years, how long once you've launched the app and possibly other products? Was it before you were able to go all in or was it day one, you're like, no, this is it. I'm doing this?
Krista Stryker
No, it definitely took me time because I didn't actually have any paid products until the app. So, I would say about a year in it started to like make, you know, decent money where I could actually spend all my time on it, which was great.
Jeff Sarris
Yeah! When did you then decide to introduce your next product or, or revenue stream even?
Krista Stryker
Um, so that was a challenge for me. So it was probably two years in that I decided to have like bigger programs like more coaching-style programs on the site. And again, this was kind of when there weren't these platforms that there are now.
It was actually like, kind of challenging to figure out what to use. I talked to some people like who back in the day would have programs and they're just sending everything via email every week. You know, it wasn't like these, well thought out platforms like they have now. So yeah, I started introducing some of those as more like group coaching, had some ebooks, stuff like that, added more features to the app, in-app purchases, like I mentioned, very exciting. And then most recently released my first book.
Jeff Sarris
So across all of those different streams of income, how would you say it's distributed?
Krista Stryker
The app has always been my main focus in terms of income. It's the thing I have the most fun with and I like the platform the best, you know, it's just really easy to use and fun to use and I limit my coaching just because it takes up a lot of time. So I have a pretty small client base there, but that's also fun.
Jeff Sarris
Yeah, and so you do a lot online on Instagram and YouTube and everything. How do you decide what should be premium and what should be for social media?
Krista Stryker
That is such a good question! I wish I had thought about that better when I started because I, I started with the idea that well first of all, I do want fitness to be accessible to everyone. So I've always wanted to keep my products affordable. I do not like the online marketing world when it's like, you can just tell they price the product high because they wanted to or they could and it doesn't deliver all that value. That's always really upset me and so I've always tried to keep things fairly reasonable and also have a lot of free stuff available on my site.
On my website, I have thousands and thousands of free workouts like if you want to get fit and you can't afford it, like, I have options for you and I never want that to be a barrier. But that being said, it is still a business. So, early on, I think I offered too much for free and figuring out that kind of fine line has always been a little bit of a challenge.
But I basically, you know, if it's just a workout, like I post those all the time on Instagram, on YouTube, on my website, but if it's more into a program or a well thought out like mindset based thing or something like that, then it's going to be a little bit more. But again, I try to keep it affordable because I know that fitness is important and not everyone can afford like high price stuff for no reason.
Jeff Sarris
I mean, it is that fine line where, where do we cut off? Yeah. And where do we cut off the freebie, but we need to build the awareness. And obviously you've grown immensely, but you want to continue growing, continue getting people into your products and services. How do you generally feel people transition? So they follow you on social media, they watch what you're doing, and then do they naturally go over? Do you have little prompts to say, hey, support me in this way? How do you approach that?
Krista Stryker
Yeah, so one of the kind of prompts that I'll do is, like, I have all these free things, but a lot of times people maybe look at a workout or something and not really know how to make progress. They're not at that level. They know that they're not at the level they want to be. And so I really help people like level up, so you know, no matter where they're starting from, I work with people have all different fitness levels and backgrounds. And I honestly don't care where you're at now but I, I want to help you get where you– even further than you think you can go.
So, back to that like fixed mindset thing, I want to get rid of people's fixed mindset and really help them make progress. And so something like we have like skill based programs like learning to do a pull-up or things like that, and a lot of things that people really especially women, but you know, men too, will will think it's impossible so I really want to help them get rid of that mindset. So, it's like, people definitely come into the programs and stuff when they're kind of tired of, you know, being at the same level that they're at or they want to just figure out how to reach higher goals.
Jeff Sarris
And now, so the programs you have within the app and also through your site, or are they segmented? Are they the same programs? Are they different?
Krista Stryker
They're different. The ones through the site, I would love all this to be a little bit more integrated, but we're working on it. The ones on the site are much more like group coaching, so a lot more like one-on-one time with me and really individualized goals where the app, you know, I don't have a lot of contact with the people who use app. So it's very hands off.
Jeff Sarris
Yeah. So then, speaking of that, what does a typical day look like for Krista?
Krista Stryker
Oh, good question. So I get up, you know, earlyish 6:30-7:00, and I try to make sure to write for an hour, an hour and a half. Sixty to ninety minutes is usually the goal. So I try to be very focused during that time and like, turn everything off.
Then from there, I usually take a break, go do a workout. And my day is pretty, like, back-to-back either work, workouts or like, you know, dog walk. I try to have very focused work time and then I take a break. Um yeah, so I feel like every day is the same but it's great. I've set up my days really how I want. I'm outside a lot. Now that coffee shops are starting to be open again, I get to work at my coffee shops. It's very exciting. But yeah, it's great.
Jeff Sarris
Is your work time predominantly writing? Is there a lot of working with the developer or developers like how do you distribute that time?
Krista Stryker
So, I have been trying to get better about like, very, like focusing and segmenting my time on each project. So, if like in the morning, I will be writing either an article or writing something for my book. Later in the day, I'll take a chunk of time and work only on the app and then, you know, I don't try to– I try not to check my email 1000 times during the day, like I just try to be very focused and intentional, and it helps a lot.
It helps, you know, get into flow much easier, and you really get much more productive if you're not scatterbrained between, you know, 10 things at once. That's– that's when I feel like I get nothing done when I'm trying to do 10 things.
Jeff Sarris
Yeah. Agreed. So then are you handling everything? Are you a one-person show? Do you have any contractors, employees that you work with? I mean, obviously the developer…
Krista Stryker
Yeah, I do actually I have a virtual assistant who is awesome and she just does kind of like basic WordPress coding type stuff some customer support and I have another content person who helps me think of, you know, ideas for writing and gets our launches at the door, stuff like that. It's very helpful.
Jeff Sarris
Yeah, so with so much content, how do you determine what to talk about next, what to work on next, because there's so much out there that you've done?
Krista Stryker
There's so much. These days– I've gone back and forth. There's times when I just want to write what I'm inspired to write and that's fine. And then sometimes, when it seems relevant, we'll actually plan the content out and you know, maybe it's by time of year or around a launch or something and so that will be like pre-planned a little bit, but I still, I do all my own social media because I like the chance to get inspired to kind of say something that I feel in the moment. And again, I can kind of see through the brands that are just like so planned and yeah, I don't know I want to be a real human. So I do a lot of that.
Jeff Sarris
Oh yeah. How would you say even when it comes to social media, where does that come from? Where does the inspiration come from? Do you find from like books and reading or things you watch or just generally introspection maybe?
Krista Stryker
Yeah, that's a good question. I read a ton. I'm always reading books. I have, you know, at least a few audio books and books on my Kindle at anytime. So I'm always– I get very inspired by what I'm reading. I'm always taking courses. I have a mastermind group that we're always talking about interesting ideas. So those are– yeah, it's like I'll read even my the people in my mastermind group, like, we just talked about that like the other day, and then I'm writing something new on it. But it's, it's great to be able to get inspired about something that you were thinking about or reading about. So that happens a lot.
Jeff Sarris
And so the mastermind group is a great representation of your network. I mean, not just your community that you've built for the 12 Minute Athlete, but the network of people who I'm assuming are also entrepreneurs or fitness personalities and whatnot. How did you connect with them in the first place? Is this the same one from the early days?
Krista Stryker
No, mastermind groups are interesting. I think they're amazing. They're amazing resources and if you can find a great group, that's awesome. I have gone through several since I started and this recent one is, by far, the best and I think it's because we're all more kind of confident in the direction that we're going in our lives.
The first one that I was in, like I lucked out by finding the app developer through but like, we had nothing in common. And we were also so new that it wasn't, you know, we didn't feel like we had a lot to offer whereas now it's like, I definitely feel more confident. I know some things about something, you know, I've plenty to learn, but like, at least I have something to offer. And so yeah, my current group, it's about eight people. And we're actually like, all sorts of different fields. Our main interest is psychology, so we kind of come together and talk about that, but it's awesome.
Jeff Sarris
Is that usually through Facebook or just like text message? How do you like quantify all of that?
Krista Stryker
Yeah, so we have, we have a weekly zoom meeting, of course. Everything's on zoom now. And we have a Slack channel. So Google, like, shared docs, stuff like that.
Jeff Sarris
So then do you tend to bounce around ideas? Is it more sticking with like psychology and whatnot?
Krista Stryker
I mean, that's the general premise, but people are different and are interested in different things, too. So yeah, we bounce around ideas or like we have like a running book list. You know, we watch an interesting YouTube video, we'll send it out to each other. That's very cool. Well, it's like, a learning circle.
Jeff Sarris
Oh, yeah, for sure. Like having that network is so valuable. What are we the sum of the people around us, like the people are closest to us, however that phrase goes. But it really helps because I think as entrepreneurs we can just get in our shell and end up not really connecting with other people and it's very easy just to sit at home typing away, like for me coding or design or whatever it is and not really engaging with other people. Like also people like yourself.
Krista Stryker
Especially now with everyone at home.
Jeff Sarris
Oh, yeah, for sure.
Krista Stryker
And no conferences.
Jeff Sarris
Yeah. Are there any other conferences that you sort of wouldn't miss that you've gone to that you think were a big value?
Krista Stryker
I loved going to conferences early on in my career. I feel like I got a ton out of them. Let's see if I can remember any of them. There was like the New Media Expo. It was kind of around blogging. Now it kind of turned into a podcast one. You should go. The world domination summit. Have you ever heard of that one by Chris Guillebeau. Yeah, so I went to that a few times. I went to the ConvertKit something or other they have a conference. It's about like creators. It's pretty cool. But the thing is, I mean, it's a good thing. But like as you get more experience, it's like, it's hard to go to conferences and feel like you're learning much.
You know, I, in later years, I kind of felt like I could have taught all the classes. So I'm now kind of branching out I went to one earlier this year by what's called the flow research collective, and they do a lot of psychology stuff. I'm obviously very into the mindset stuff these days. So that was super fun. And it was, it was really different than like the marketing conferences I've gone to before. It was like, everyone, there's like a sports psychologist or has a PhD in neuroscience, so it was just a really fun, different atmosphere.
But I highly recommend conferences for networking and not even just– Networking is a silly word, but like just meeting other cool people really. And you know, you're going to learn something. They're a really good experience.
Jeff Sarris
Yeah, especially early on because a lot of times we don't have people around us who are doing something that we want. I think it's very rare when we have that entrepreneurial community that then gets us into it. Like you said, you shouldn't work for someone, which, like, I feel the same way. I worked a desk job for a while and I could never, never go back to that, you know, but there wasn't anyone around me, other than people online and the Four Hour Workweek and all of these things that I was seeking, but no one knew me. I had no interaction with them. So yeah, early on, I think conferences are very valuable.
So you recently published a book, correct? Was that something you did on your own, or through a publisher? How did that work out?
Krista Stryker
So I actually– I first self-published. This was two years ago. And then it actually got picked up by a publisher Tiller Press, which is a subset of Simon and Schuster and so that went as officially out in March of this year.
Jeff Sarris
So how did that happen? Did they approach you because they saw the book? Did you pitch it to them?
Krista Stryker
They approached me which was awesome.
Jeff Sarris
Yeah, that is very cool. And what kind of negotiations, then, did you have to go through? Was it pretty straightforward, or did you have a lot– because I mean, I feel like it's a really new thing, like for us, like we're doing our thing in our world and then you have to go into the traditional world. It's a little different.
Krista Stryker
Yeah, it was super different. They were great, though. You know, early on we talked about they didn't want to make huge changes to the book, which was really important to me. Obviously, I'm always up for making it better, but I don't want them to like, have me water it down a bunch, or just change the message. So, that was really important to me to make sure that it was going to be something I was still proud of, but they did a good job.
Jeff Sarris
So what's next on the horizon for you then? Are there any new projects coming along or anything you're excited about?
Krista Stryker
Yeah, I'm writing my second book right now, so that's really fun. I am obviously very into writing. So this one is going to be– my first one was kind of like an overview of my philosophy, HIIT training, bodyweight fitness, kind of how to make progress no matter where you're starting from. And the next one is going to be much more in-depth on mindset. Some psychology stuff, motivation, but still like around fitness. So that's a huge project right now.
Jeff Sarris
Oh, yeah, I could imagine and I've noticed you've started to talk a lot more about mindset and things like sort of to bridge that gap between the two worlds. How are you finding that transition? Because, as you've said, mindset is huge for your personal life, for your fitness goals, and everything. But since you do a lot of workouts has there been any challenge in bridging that gap?
Krista Stryker
I mean, I think there's always a challenge and, like, you want to go in a slightly new direction, you're gonna lose some people maybe bring on new people. But that's fine. That's how it goes. Like everyone is going to go through that at some point in their, well, probably many points in their career. You know, you can't just stay in the same place forever.
So, I mean, overall, it's been really good. I've always kind of intuitively talked about these types of things. I just didn't have the words for them before. I didn't know like the actual research behind anything. So now that I'm learning more about that, it's like very cool that, like, Oh, I actually like had this hunch five years ago or whatever. I just didn't know what it was. So it's still– the message is very similar. It's just like, yeah, going much more into that and writing a lot more about it. It's been fun.
Jeff Sarris
Yeah, and when do you expect to have your maybe draft or publish date? I'm not sure you can because obviously, it's a huge project so it's probably in flux. But do you have an expected date?
Krista Stryker
No expected date. I mean, it's gonna be a good year. It's a long-term project.
Jeff Sarris
Yeah. And not to go too much further, but when it comes to a book, then, I've heard a lot, of course, that it's tough to earn money from the book. Have you found that and have you instead used it in a different way, maybe as lead generation or anything like that?
Krista Stryker
Yeah, I don't know a single author that's like, Oh yeah, I'm making all my money off my books like, no matter how well they do, that's just not it. Maybe you could do that in the past, but now it's like, you know, with the online world and everything and as authors, like, you really need more streams of income. So a book sure if it does well, awesome. But you want to have courses, you know, when we are allowed to be in person again, like, I'm going to do more speaking and workshops and that kind of stuff to kind of round it out.
Keep up with the app, but just have like, I heard somewhere that and I was trying to have seven different sources of income. So if something dries up and you still have other things to go off of. Books alone is not a long-term strategy. It's just what I want to do. So I need to find ways to like support that.
Jeff Sarris
Oh, for sure. And I mean, you also want to be doing the things that you personally want to do. Because if it's only if you make a job out of being an entrepreneur, it's sort of no different than what you would have been doing before. So one last question. If today was the last day you were going to earn money from what you have set up now, what would you start with tomorrow? It could be in the same fitness space and like it could be the same exact thing, but for some weird Bizarro world, the money is gonna dry up and you have to start from the ground floor. How would you get started today?
Krista Stryker
That is a really good question. I have like five different routes I would go you know. In some, you know, parallel universe, I would probably start and just go right and get my Master's or Ph.D. and like become an actual psychologist and do research and maybe work with athletes, that kind of thing. Another parallel universe, I would be more of a journalist and write about all the cool stuff that's going on. Not necessarily be the one like leading it, but be the writer and write for magazines and write books and stuff. So those are like two paths I would take.
Jeff Sarris
Yeah, and just on that note, how do you feel about being the leader of this, like you're the face of everything that you're doing?
Krista Stryker
It's always been a struggle for me. I never created– that's why I didn't create the brand, Krista Stryker Fitness, because I thought that was, first of all that's lame, and then second of all, I wanted it to be bigger than me. So my favorite thing in the world is when someone like approaches me on the street and they're like, you're the person who created that 12 Minute Athlete app, and they don't know my name. They don't necessarily like think of me as the entirety of the brands. That is the best thing to me. So I was always just the face of the brand just because, you know, I'm the one doing so much of it, but I never wanted it to be all about me. And yeah, future goals would be to like, bring in other trainers and have other people work with me on it, so it just becomes more of a bigger brand.
Jeff Sarris
Yeah, I mean, but that is great. That is the thing because it's a recognizable brand people, people coming to you and not knowing your name, of course, is probably a little bit of Well, I mean, it's me, you know my name, but at the same time, like, you're building something bigger than you, like you said. But yeah, this has been great. Thank you so much for doing this. And for people who want to follow along, check out the app and do everything where should we send them?
Krista Stryker
I'm pretty easy to Google these days. You can find everything at 12minuteathlete.com, or if you google 12 Minute Athlete, or all of the social accounts are @12minuteathlete. It's pretty easy to find, which is great. SEO is helpful!
Jeff Sarris
Nice. Yeah, so I won't take any more your time. Thank you so much for for being with us today and we will talk again soon.
Krista Stryker
Thanks for having me.