Listen on Apple Podcasts · Spotify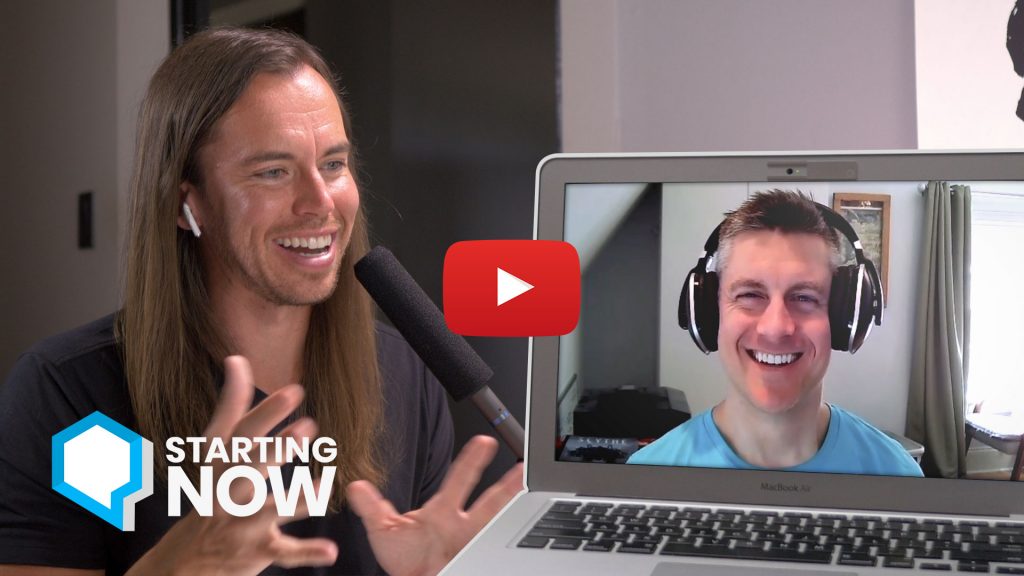 Today my guest is board game designer and entrepreneur Jamey Stegmaier of Stonemaier Games. Jamey's created or published some of the most successful board games of all time. Out of 100,000 tabletop games on Board Game Geek, he's published the 11th, 20th, and 21st most popular games, among others.
He's a prolific tabletop and board game designer, a wonderful guy, so I'm really excited to share this conversation with you.
In this episode Jamey and I talk all about the board game industry, how Stonemaier Games thrives while remaining small, why he no longer uses Kickstarter for his games, and how he continues to create an impressive amount of original content every week.
Mentioned in this episode:
Subscribe to Starting Now on Apple Podcasts, Spotify, YouTube, or wherever you listen to podcasts.
---
Love this episode? There's more!
---
Transcript
Jeff Sarris
Welcome back to Starting Now, I'm Jeff Sarris. Today I'm talking to the beloved game designer Jamey Stegmaier of Stonemaier Games. Jamey has produced some of the most successful board games of all time. He's currently out of the, say top 100,000 games that are listed on Board Game Geek– maybe I shouldn't say top, but there are quite a few games on there– he has the 11th, 20th, and 21st most popular games of all time. He's a prolific designer, a wonderful guy, and I'm really excited to have this conversation, to share it with you.
As you may notice, this is a new intro from what we've been doing normally. I'm changing it up, just like the premise of the show, Starting Now. I dove right in and started this podcast and now it's time to do a little adjustment to fit more of the tone and the vibe that I'm going for. You'll also find in this episode that we run into a little snafu about halfway through where my hard drive filled with storage, but you know what? I'm leaving it in because that's just how this goes. We're trying to show the process and trying to teach you how to get started on on your next big idea. So without further ado, here's my conversation with Jamey Stegmaier.
Thank you so much, Jamey, for being on the show. I'm really excited to share your story and dive into your entrepreneurial journey.
Jamey Stegmaier
Awesome. Yeah, me, too!
Jeff Sarris
Yeah, so this is called Starting Now. It's a show about change, resilience, and your next big idea. Originally, I considered calling it The Business Of… because I'm really fascinated about different industries. You're in the board game industry and you've really created some really highly revered games. I mean, they're phenomenal games, but some of the greatest of all time, really. I mean, I know you probably won't say it that way, but they're rated so highly because they're excellent. And you've found a way to balance. You balance the design side for game design and whatnot, but then also you are an entrepreneur, you're a founder of a company. Tell us a little bit about Stonemaier and how you got started.
Jamey Stegmaier
Yeah, I consider the exact inception point for Stonemaier, at least the point where we became a company, was back in 2012 when I had designed a game, Viticulture, specifically to launch it on Kickstarter, because I was really excited about game design and it's something I had done my whole life as a hobby and I was really also excited about the concept of Kickstarter, the idea that I could connect individually with a bunch of different people who shared my passion for a specific game in this case. And so, I didn't know if it would fund. I didn't know if we actually would have a company or if anything would come of it, but fortunately after I think it was around two weeks on Kickstarter, and it did then successfully fund, and that's the moment that I consider that Stonemaier Games officially began. Since then we've grown quite a bit in terms of number of things printed, but we've also, as you've alluded to, remained very small as a company. I say we because I have a co-founder and I also now have another full-time coworker, but for a long time, for seven years, I was the only full-time employee here.
Jeff Sarris
Yeah, that's amazing. And to grow that you have and staying so tiny is impressive. That's why I wanted to dive in in this talk. Um, when you found your co-founder, was this someone who you were already friends with? Did you seek complementary skills? How did you approach that?
Jamey Stegmaier
Yeah, it was during the play testing process for Viticulture, the local play testing process, when I was just making prototypes, cutting them out, and sharing them with friends. I was looking for people to play test and I kind of felt bad every time I asked someone to play test it because the game wasn't very good at all. That's the process I go through for any game. But also I would ask one friend to play test and then another friend, and so I was basically going through every friend who I knew was comfortable playing games, and doing that. And one of those friends was Allen Stone, a friend of mine, who I played mostly just Agricola with at that point.
We just had a regular play test and he gave some great feedback, and he reached out to me a few days later and he said, "Jamey, I really enjoyed that. I didn't know if I would, but I really enjoyed the process of talking about that, about brainstorming. Would you be open to me being involved on an ongoing basis?" And that was really good for me to hear, really helpful for me to hear. I wasn't looking for a partner, but just the idea that I could have someone who is just as excited as I was about that process that I wouldn't feel guilty about going to because I felt really kind of guilty going to the friends asking for them to play this game that wasn't working very well, that really helped. And it helped forge a long-term partnership with Allen, throughout the years. He's still involved. He works for like a few hours a week for the company. He has another full-time job, but he is still very much involved in the process.
Jeff Sarris
And how do you distribute that work between the two of you? Like sort of what's his wheelhouse versus yours?
Jamey Stegmaier
Yeah, it took us a while to figure that out because I found fairly early on that exploring that division of duties in principle was very different than how it would actually work out in practice. So, we kind of stumbled through it for a while and we found that Allen's passion is mainly in play testing and offering feedback. He also, for a while, handled the replacement parts, so if any of our games are missing a part or someone tears a card by accident, we were happy to replace it. That happens quite a bit when we have millions of copies of games out there at this point. So, it's only a small percentage, but it adds up to quite a bit and so he managed that process for a while. Allen also handles the submission process. A few years into the company, we started accepting outside submissions from other designers and Allen sees those submissions, reviews them, and decides which ones we want to actually play to see if they are viable for our company for publishing. So, we've kind of figured that out along the way and that adds up to typically around maybe five hours a week for him, sometimes more sometimes a little bit less.
Jeff Sarris
Yeah, so that relinquishing control and accepting the outside submissions, was that a challenge at the beginning knowing that everything was coming from you?
Jamey Stegmaier
Yeah, it was different because I didn't really even go into this thinking I was going to start a company. I went into it wanting to put a game on Kickstarter and I realized throughout the Kickstarter process that I was, without realizing it, running a company. That's what happens when you run a Kickstarter campaign. So, for a while, I just thought "okay, I guess I did this Kickstarter. I'll do another one. And, of course, I'll design the game just like the first time around and I'll do that again."
But I started to realize that as Stonemaier Games started to take shape that I have certain design elements and types of games that I think I'm decent at designing, I at least enjoy designing, and there are certain types of games that I'm just not all that good at designing. They're not my forte. But, at the time, we thought, okay, we want to have a diverse array of games in our portfolio. And so we realized, when we came to that realization, that we needed to reach out to other people who had talents that were different than mine. So, that's when we found Between Two Cities, which was the first game from another publisher that we published, and has grown into a number of different games from other designers, including collaborations for expansions and now our best selling game, Wingspan, was designed by Elizabeth Hargrave and not me. So actually our almost our marquee game now was not designed by me.
Jeff Sarris
Yeah, and to start with Viticulture–I actually I don't know why I was thinking that there was going to be a game before that it didn't even register because Viticulture is a massive hit. It's such a great game. I mean, just like your others like Scythe and Wingspan and everything. So when you were diving into that you weren't expecting to start a business necessarily, but had you done anything entrepreneurial before releasing Viticulture?
Jamey Stegmaier
I had done a few little things. In my 20s, I tried to start a web-based app called Type Tribe. The idea being it was basically a feedback platform for writers who wanted to get feedback for their work. I tried to start that and it didn't really work out at all. I had to hire a developer, hire a programmer because I don't have those skills and didn't want to take the time to learn those skills and it just didn't work out. So, after that I was involved in a very small startup for a another– my two passions basically are board games and writing and reading fiction, so the other startup after that was a local independent book publisher, novel book publisher that I was involved with for a few years and then I found that I was much more passionate about the board game company in that company. So, I kind of gave my shares to somebody else and let them run with it.
Jeff Sarris
Do you write a lot of fiction now?
Jamey Stegmaier
For our games I write– it's mainly just for our games at this point. It's something I'd like to get back into someday, but I am fully satisfied, I think, in terms of the amount of creative time and energy that I spend on games that I don't miss it all that much. I think it's one of those things that I'm happy to get back into when maybe someday I get bored of designing games.
Jeff Sarris
Yeah, because you are world building when you're building the game, so yeah, it's very similar, or in a sense similar to what you'd be doing otherwise. I feel like you are, as a company, so supportive of your products, like to a degree that a lot of other companies aren't. Maybe they aren't by choice, maybe they aren't because they aren't capable. How did you figure out how much support to give? And how do you balance that? Because you like you said, you are open, tell us what's missing, what's broken, whatever happened, and you're very giving in that regard.
Jamey Stegmaier
Yeah, I guess there's two different elements to what you're talking about, one is the focus that we put on our games and the other is the focus that I put in sharing what I learned and the mistakes that I make and things like that. For the games themselves, I guess there are a couple different models for publishing and one is publish a lot of games every year and hope that a few of them worked out and become long-term hits. I don't love that model because I'd rather just publish a few games and have those games become hits and just focus on what I think is the best work rather than diluting a pretty crowded market with stuff that I don't fully believe in. The other model, and I guess maybe the other reason publishers do that, is they rely maybe a little bit too heavily on single print runs of games. Making a print run, putting it on Kickstarter maybe, and hoping it does well, and then doing it again the next month, and the next month and the next month.
I would rather put out one or two new games a year, maybe one or two ancillary products, expansions, accessories, things like that, and put the full spotlight on those products to show all the time, and resources, and energy that we spent putting into those products, and to show that to the world that we really believe in this thing. So much so, like this year we only have one game coming out this year and I think that says we believe in this so much that we're not going to put out anything else. This is the thing. This is the thing that we believe in and we hope you'll give it a try as well. The other side of that is although I do create a fair amount of content on my Stonemaier Games blog, that is intended to help other creators and entrepreneurs. I also have a YouTube channel about game design where I talk a lot about games from other designers and other publishers, because I learned from them and I want to share what I learned with others. I like the conversations that evolve from both of those types of posts.
Jeff Sarris
Yeah, it's very valuable to to give back. I mean, we're sort of sampling when we're creating, when we're moving forward. It's sort of like that concept in music and this is "Oh, we love this idea. We love that idea." And it's very helpful. I mean, it's what creates and it's how you can then then give it back to the future. So, what does a typical day look like for you running Stonemaier, creating the content, like just across the board? What does a standard day look like?
Jamey Stegmaier
It's evolved a little bit over time. So if you'd asked me a year ago, my schedule was every morning I focus a lot on communications. I get through my inbox. I hopefully put out any fires. I'm on social media quite a bit. Usually, there's some sort of content I'm creating every day, whether it's a YouTube video or a blog post. That's the morning, the afternoon I often spend kind of wrapping that up and moving into more game development, the game development side of things, not necessarily for my games, usually not for my games, but like taking in play test reports from other games and blind play tests we have in process. So, a little bit more focused on games, specifically. There's still a lot of operations and some marketing that goes into the afternoon. And then in the evening, I usually spent two hours on game design. So it's usually only and those were, those are usually the good days. I do love to get a few hours of game design in every every day. It doesn't always happen. That has changed a little bit because I did move in with my girlfriend nine months ago now and so I like to have my evenings for my personal life. So my ratio of personal to business time spent has changed a little bit. But I still do pretty much the same thing in the mornings, and then I try to fit in more game design time in in the afternoon, and then reserve evenings for time with Megan.
Jeff Sarris
Yeah and that was a big shift because if I read correctly, you were all in on the business for many years.
Jamey Stegmaier
Yeah, I still like to think that I'm all in, but now I'm all in with somebody else, too, so it was maybe a little bit of a challenge, but never one that felt bad. It was more like an interesting puzzle to solve so that I could focus on both and find ways to love both of them. Because both are very important to me.
Jeff Sarris
That's a great point that it is another puzzle. We're trying to balance our work, our life. Like the work-life balance, but also, I think that's really indicative of how similar tabletop board gaming is to entrepreneurship. It's because we're putting out fires, we're solving problems that are presented to us, but in the boardgame world it's purely for fun and competition, too. About how much time do you tend to spend from concept through to game creation on your games?
Jamey Stegmaier
On my games? When I'm designing the game? The fastest was probably around six months. I'm working on one right now that I've worked on for about three years, but usually it's around 12 to 18 months from the initial brainstorming process through the end of blind play testing to where I think the game is as fun, and balanced, and intuitive as possible. So yeah, I would say an average between 12 and 18 months.
Jeff Sarris
Sorry, one second. I do a screen record and apparently I ran out of hard drive space.
Jamey Stegmaier
Are you going to post both audio and video?
Jeff Sarris
Yeah, so I do like a an actual a three camera shoot. So I'm still figuring out this podcasting thing, so bear with me, but I appreciate you taking the time to be on, you know. So I have a camera there, a camera here. So it's sort of like over-the-shoulder/interview style, but then I have the screen record for the actual tight shot on you. So…
Jamey Stegmaier
Cool.
Jeff Sarris
So something I've always been very curious about is, like, I'm very analytical, data-driven. In those early stages, how is the balance between pure art and creativity and maybe data? Because I mean, just thinking about a lot of these games, to get the balance there's a lot of like algorithmic concepts that are built into board gaming.
Jamey Stegmaier
Oh, yeah, a lot of different value propositions, especially in the types of Euro games that I publish and design. Like the cost of things, how much is one gem worth compared to one Gold or the time that you spent getting those things in the game? Early on in the process, a lot of it for me is really not focused on balance. It's focused on just getting the core mechanisms to function and hopefully, within a reasonable timeframe also be fun. So, there's a good block of time where it's just like, let's get this to work. And then usually, hopefully, there's a breakthrough moment where I have a play test or like, oh, for the first time, that was actually fun. That wasn't just, we weren't just stumbling through it. That was a fun moment and then that's usually when I start to think a lot more about the exact cost of things in the game and the balance between all the different aspects.
And then I go into blind play testing, which is when I send out prototypes to people around the world, and that's when I really focus on the balance. I'm collecting data at that point, some anecdotal data, but a lot of hard data to make sure that different asymmetric elements are balanced. Different cards aren't objectively or subjectively, more or less powerful than other cards if I am trying to balance cards and different abilities and things like that. So, a lot of it is instinct until I get to that that late play test and blind play test stage.
Jeff Sarris
In terms of fun, because you mentioned playing until it's fun, do you feel like it's possible to take any design and get it to that stage? Or do you have to sort of kill some of them off and go a different route?
Jamey Stegmaier
That's a great question. Is it possible? Maybe? But there definitely are quite a few games that– I've gotten through a few prototypes and it has gotten to the stage where it's at least playable, we can play through a whole session, and nothing completely breaks. And I usually ask myself, and ask Allen, and ask my coworker, Joe, at that point, like "Are we really having fun here? Is there even the potential for this to be fun? Is it worth spending all the time on this to make it fun?" Because I think probably we could make, or anyone could make any game fun eventually, but is it worth it? Some games I think are just easier to make fun than others. And there's also the question of can we make this game innovative and unique and make it stand out from all the other games or all the other products on the market? So how much I think we can do that for any product, but how much time is it gonna take to do that opposed to another game that starts out as innovative and starts out with with fun elements from the beginning.
Jeff Sarris
Say, if you start out with an innovative game, since we're in the boom, the renaissance of tabletop gaming, how do you find that new inspiration to create something that would be innovative and stand out, like you said?
Jamey Stegmaier
It's hard to do because there are so many fantastic games being published these days and I'm excited by that. I love that. I think every designer is essentially pushing every other designer to innovate and do something special that stands out. And so really, for every idea that I have that I think is unique, there's probably a bunch of other adjacent ideas that already exist to a certain extent and it's throughout the playtesting process that I identified the fun elements. I'm constantly questioning them, even as I come up with the fun elements, I have to look at that element and say, "But does this exist better in another game already? And if so, should I just yield to that game and be happy that it already exists? Or should I spend more time on this making it more unique and more fun, so it does stand out in comparison to that other game?" So it really evolves throughout that playtesting process and sometimes it gets to the point where I'm like, you know, this just isn't better than a very similar game that already exists. Why not just play that game, rather than spend the next 10 months trying to make this one work.
Jeff Sarris
Absolutely. Figuring out the next product for any sort of business is a big challenge. And you're running through play tests, you're doing everything to get the game just right, do you have any way of measuring how likely you think a game is going to be a hit and actually become profitable?
Jamey Stegmaier
I wish there were a magic formula to figure that out. Not just for figuring out which games that we proceed with, but also figuring out, for example, how many units to make in the first print run, which continues to be an ongoing puzzle. And to illustrate this, you probably know this from reading what I've written, but your listeners may not know this, but in the game industry unless you run a Kickstarter campaign, it is a complete guess as to how many games you need to make on any given print run because typically, like if I make 10,000 copies of a game, I don't hear from distributors.
I'm selling most of those games to distributors. I don't hear how many times copies of the game they want until the games are already in stock. They are not telling me "Jamey, I hope that you make this I hope you make 5000 copies of the game for me before I even start the print run." So it is a complete guessing game for distributors and for how many that will sell directly to consumers. So I wish there was a magic formula to it. A lot of it has come down to my awareness of other games on the market and how they do and my awareness of our audience and our historical numbers for for games that we've published.
Jeff Sarris
And how has it been when those numbers don't jive? Because you've been in both directions, I know, like maybe too high of a print and too low of a print.What's the internal strife that you deal with with that?
Jamey Stegmaier
The two examples that I think you might be referring to a little bit are there was a game that we published called Between Two Castles of Mad King Ludwig and it was a game that I was fully confident would be both a short-term and a long-term hit. So, I made 20,000 copies in the first print run and this was almost two years ago now and we are still selling through those 20,000 copies. It's still a game that I very much believe in. I still send it to reviewers. I still think it could reach that critical mass where we have future print runs and whatnot, but it did not take off like I thought it would. And then we had another game we had Wingspan, which I mentioned is now our best-selling game.
Wingspan was a game that I even talked to distributors about in advance. I ran it by a few distributors, I said that we have this really great engine-building game with a bird theme, a theme that I was– while I loved it in the game, I was worried if hobby gamers were even going to give it a try in the first place. So, all the data I gathered showed that we probably needed a first print run of around 10,000 copies and then hopefully we'd make another print run. But the buzz around that game was huge out of the gate. Early reviews were great, there was a lot of buzz about it, and 10,000 was far too few copies I think for us to make, but by the time we knew that we have a lead time of another five months to make the next print run. So, yeah, goes both ways.
Jeff Sarris
Oh, yeah, definitely. With that upfront expenditure then, too, I mean, that obviously plays a major role. So without doing Kickstarter the first time, do you see a path for someone else that might be trying to launch a game? I mean, Kickstarter is sort of the Holy Grail of gaming it feels like at the moment, but I know, now that you have a lot more experience, you're not so keen on Kickstarter necessarily.
Jamey Stegmaier
Yeah, I am forever grateful for the Kickstarter platform as a creator. My company wouldn't exist without it and it wouldn't have grown without it. But we did step away from it after our Scythe campaign in 2015 because I realized for a variety of reasons, but it comes down to this: I realized that we had the resources to just make products that we really believed in. And, instead of having a 6 to 8 month gap between when people gave us money for those products and us delivering those products to them, we could just make it, announce it, share what it is, and then a few weeks later, start shipping the game to people, really tightening and closing that gap between announcement and when you get it at your front door, or even when retailers get it. So I love closing that gap.
For a new creator, though, that's what your question started out with, what would they do? What should they do? It's totally up to them. I think many people just want to design games, for example, in the game industry, they just want to design games, and that's an opportunity to sell games to publishers, rather than trying to run a business around it. But if I were just starting out today, I would absolutely still start out with a Kickstarter campaign because the stakes are much lower, I think, if you don't fund. You've invested money in art and graphic design a little bit, but you haven't ruined yourself financially, hopefully, just to find out that no one wants your product. So I think that's a nice safety net and it's a great way to market and build a community if you don't already have one.
Jeff Sarris
And that is the thing, you lay the groundwork and hopefully other people, too, who are doing the same thing is invest heavily in the playtesting and the development of the game itself. I mean, that's everything. It's the Kickstarter, you can only really do well with any sort of product if it's solid and a great game. So this industry isn't all that cashflow positive, generally. What ways have you found to sort of manage that?
Jamey Stegmaier
Yeah, it's an interesting puzzle, another interesting gaming puzzle to figure out. So I've had a few different experiences. For the first two years running Kickstarter campaigns, great profit margins on a Kickstarter campaign because you're charging people, maybe not full MSRP, but a decent amount over the cost of making and shipping the game. Profit margins are great. For about a year after I stopped using Kickstarter, I shifted to purely selling games to distributors, and in the board game industry distributors buy products at a 60% discount off MSRP. It is possible to make a profit on that, but it is a lot more difficult. If a game costs $10 to manufacturer, usually the MSRP is around $50 and the distributor is buying it for $20. So, I have maybe roughly a $10 profit on that if I don't actually make any more copies of it, but if I then reinvest those $10 in a second print run of the game, technically, I'm making a profit, but really I'm just trying to create a long tail for that game.
So, I kind of realized over the last few years that I needed to have a better balance. I needed to not just rely on direct sales, like Kickstarter, and I also need to not just rely on distributors. I needed a balance of both. So at this point, we do a little bit of both. I would say maybe 15% of our sales, maybe 20, but I would say around 15%, are direct to customer, another 10 to maybe 15% of our revenue is licensed deals with localization partners around the world, publishers who publish our games and other languages. And then the other maybe 60% or so, if I did that math, right, what 60-70% is to distributors and retailers.
Jeff Sarris
And part of your direct sales involves a membership. How did you come to that and how does that work?
Jamey Stegmaier
I basically did something that I think your listeners might think is pretty dumb, but I basically wanted to compete with Amazon a little bit. Amazon, I think has an amazing Prime program where– I'm an Amazon Prime member and I love the idea that I don't have to think about shipping when I shop on Amazon. I can just click a button and don't have to worry about shipping. And, so, I kind of wanted to compete against that idea a little bit and encourage customers and give people a reason to feel good about purchasing directly from us and not think about the shipping cost. This is part of it. The other part is a number of people had asked how can I support the written content and the video content content that you create.
And I debated things like Patreon and drip and things like that, but I basically came up with a program called the Stonemaier Champion Program where people can pay, currently it's $15, originally, it was $12, for a year subscription, essentially, where they support the content we create. As a perk to those people, they get priority shipping, and they get either free or discounted shipping depending on where in the world they live. Currently, I think we have around 6500 Stonemaier Champions, so nowhere near the number of Amazon Prime subscribers, but it's great to know that whenever I release a new product, there are 6500 people who are at least somewhat interested in buying that product and buy products from us directly on an ongoing basis.
Jeff Sarris
Yeah, I think that's a great example. You're not only asking people "hey, what do you think? Do you want to buy something?" and like "ph, we have these, so many people on the email newsletter," but they've actually put money down. They've opened their wallet and that is the key to figuring out if a product is going to be viable, and they've opened their wallet, not for just a product, but to support you because they really appreciate what you're doing. And you do phenomenal stuff! How much content do you end up producing because you do quite a bit through through the various videos and written stuff?
Jamey Stegmaier
Yeah, the pattern I'm currently on I write 2 Stonemaier Games blog posts a week. And some are on games on the Stonemaier Games website that focus on entrepreneurs and crowdfunding and business. I post two short videos a week, each one about a specific game, and then a longer video every Sunday, usually it's like a top 10 list or something that dives deep into a specific area of game design. I do one Instagram post a day, usually about games sometimes about cats. I also have a personal blog that I've maintained for around 13 years now where I just write about stuff I'm excited about: a book, a restaurant, a movie that I'm excited about. That's kind of just a fun little outlet? I think that's it. Yeah, I think that's all the regular content I produce. Oh, and I have a Facebook Live show every Wednesday where I mainly just interact directly with fans and answer questions and talk about what we're doing at Stonemaier Games.
Jeff Sarris
I know we sort of talked about your day and everything already, but how do you possibly manage all of that? It's so much content and like everything that goes into running the business like you talked about and designing the games, it feels like you have to be going, going, going!
Jamey Stegmaier
Yeah, during the during my work day, I generally stay pretty focused on these different tasks. They take different amounts of time, like the blog entries usually take around an hour and then I'm usually answering questions throughout the week, or at least commenting, depends on the blog post, too, some get fewer comments than others, for another 30 minutes, maybe an hour. This is one thing I've realized about the YouTube videos, I basically decided early on that the style of video I wanted to shoot was short and unedited. I wanted to just sit in front of a camera and talk for a few minutes, which has probably limited the number of people who care about the videos at all because they're just staring at my face for five minutes talking to them about a game and they're not even seeing any visuals unless sometimes I like hold up photos of the game I'm talking about or if I own the game, I'll hold up the actual game.
But I basically decided that I don't want to spend more than five or 10 minutes on these these shorter videos. And I'll just see where it takes me because my enjoyment from them is just talking about the game and then interacting with people as we talk about the game later. We have evolved that a little bit for the longer videos where I filmed the longer videos and I send them to Joe, and Joe adds pictures and lists and things on the screen. But it was really me deciding this is how much time I want to spend on this and how much time I can spend on it if I want to sustain this, and sticking with that. Like, for your shows, how much time do you spend throughout the process for any given podcast episode? Because I bet there's a lot of editing and things that go on beyond the 30 minutes we're going to chat.
Jeff Sarris
Oh, yeah, it's so much more time than just this conversation, especially having the multiple cameras. First, I process the audio. Then, I go through and move over to Final Cut and do all the camera cuts. It's quite a bit of work. That's why I'm sort of in awe of how much you do. Do you think that you'd be able to maintain what you're doing without so much content? Do you think there's sort of a line of diminishing returns maybe?
Jamey Stegmaier
I have wondered that. Like, if one day if I stopped filming YouTube videos, if I stopped writing the blog, what would happen? I don't know if anything disastrous would happen. I think I could continue to run Stonemaier Games just fine. I'd probably have a little bit more time for game design, but because those do create such great platforms for me to connect with people and also process my own thoughts, I think there is an inherent value to to them, even if I was just making the videos and writing the content and not even sharing it with people, I would still have value in it. Just because that's how I process things, by talking about it or by writing about it. I think you're right. There is a diminishing return to it at a certain point. If I was trying to write a blog post every day, or film a video every day, I don't think that would be a good balance. But I I think I found a pretty good balance to it. And I'll continue to ask that question. Is this a good balance? Is this good for the company? Is it good for me personally?
Jeff Sarris
Sort of on that note, how do you reflect on different things, and throughout the company of where your attention is, and maybe when you might need another employee? Do you have any sort of system for figuring that out?
Jamey Stegmaier
I think there are a couple different micro systems. Like one is the actual act of writing the blog and filming the videos. The blog in particular, because the blog, I look at specific elements of business, and whenever I do, I often end up being a little bit introspective about it. I mean, maybe I see another company doing something awesome and I ask myself, should we be doing that? Are we doing that? Can we do that better? We also have a group of shareholders. So, Stonemaier Games is an S Corp and so we have a certain number of shares in the company. I have an ongoing conversation with shareholders, but I also post an update every month and that's a good time for me to reflect on what we're doing and to get feedback from our shareholders about how we're doing.
Then there's also my my weekly meetings with Joe and Alan, which is a process that's changed during the pandemic. Unfortunately, we don't have as many of those meetings, but we before the pandemic, we met once a week to either play test, and whenever we weren't playtesting we would go out for lunch and just talk about the company and talk about things. So, that was kind of a good time to reflect on the balance and the company and what we were doing that we wanted to continue or to do better or to do less of.
Jeff Sarris
Yeah, and it feels like you have a little family there. Like your business is your extended family and that is so valuable. Sort of the adage is "no one will be as invested in your company as you are." But the more you bring people in, which I think you do phenomenally well through like your business, but also with the community, you really bring everyone together, and I think you're a great example no matter the industry someone's in. I think you're a great example to look towards and follow. I also like how you're not only talking about board gaming. You've rounded out the picture of who Jamie is, which is very valuable because I think it's easy to get caught up in like, this is me, I've found this lane and I can't diverge from there. So I'm hoping people really enjoy this episode and dive into follow you. One last question. What is the one thing that you wish in retrospect that you knew when you started?
Jamey Stegmaier
Oh, that's a big question. There is no just one thing. You know that! There's more than just one. But what is one thing that I wish I knew? Hmm, give me a second to think about that. What is one big thing that I wish I knew about the business in general?
Okay, one thing that I wish I had known, among many things that I wish I had known, and we kind of touched upon it a little bit earlier which is why this has come to mind, is the idea that sweat equity can be very different than the amount of financial equity that I or other people invest in a company. One early mistake that we made that we worked around, I worked around it, we found our way out of it, but very early on in the company, me and Allen and one other person, all three of us invested a small amount of company to pay for some of the original art and graphic design to build the company. And because we each put in the same amount of money, we decided, Okay, we'll each own a third of the company. And there were discussions, at the time, about what we would each be doing with our time so that we would each be spending an equal amount of time on the company doing different things as well, but that was very theoretical. We didn't really know how it worked out.
And so I kind of wish in hindsight, I very much wish that that we had actually just tried to run the company together for a little while before deciding what those ownership percentages were instead of just basing it on the finances because what actually happened, similar to what we talked about earlier, and this wasn't a conflict with Allen, it was a bit of a conflict with a third party, was that I was mostly running the company, Allen was doing a few things and the other partner, who I'm very grateful for, for their financial investment, but that they weren't doing anything else. So, I wish we had figured that out and had actually just worked together for a while before deciding how to split up the company. And so for anyone looking for partners in a company maybe learn from my mistake there and do a little differently. I would definitely have done that differently if I could do it again.
Jeff Sarris
Yeah, that's a great advice. Finding a partner is very challenging, but also vital. It's hard to work in a vacuum. We succeed together. That's really how it goes. So thank you so much for doing this. I think this is a great conversation. I think people are gonna get a lot out of it. Where should we send people to follow you, follow the company, and check out some of your games?
Jamey Stegmaier
Yeah, all of all the content that I produce, both on the game side and all these videos and blog posts I've been talking about, can be found on stonemaiergames.com. All of it's kind of aggregated there.
Jeff Sarris
Perfect. Thank you again for taking the time. I don't want to cut into too much of your day and really appreciate you and we will talk again sometime soon hopefully.
Jamey Stegmaier
Sounds great! Thank you, Jeff.